No one should have to go through this alone.

Parenting a struggling teen is hard. From finding the right resources, to learning how to vet programs, to connecting with others who have been or are still on this journey.

We are here to change that.
Let's put the power back in your hands.
Ending the stigma around
mental health struggles.
Our teens are struggling and we are not afraid to talk about it.
Being a teenager is tough. Navigating a global pandemic for the past 3 years has only made it harder. As our teens struggle, we as parents, also struggle. Talking to friends can be really helpful. But talking to other parents and caregivers who are experiencing similar challenges is invaluable.
Connect here with others and find new strength.
What you get as a member:
We want to be THE reliable resource for you.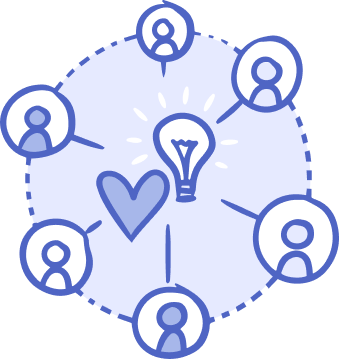 Jeff Zawadsky
Jeff is our founder and CEO. He is our chief visionary and also a parent who has been on the journey and wanted to build this platform because he was convinced it just shouldn't be so hard.

Jeff is a serial entrepreneur and spent most of his career in private equity. Jeff also served on the board of one of the largest providers of adolescent behavioral health services for 7 years. A graduate of Princeton and the Harvard Business School, Jeff has led and run multiple funds and companies. He speaks fluent Russian after living in Russia for a number of years. Jeff now lives in the Bay Area with his sons.
Katharine Weymouth
Katharine is our Chief Operating Officer. A former attorney, Katharine spent most of her career in advertising and publishing over 17 years at The Washington Post, including 7 as Publisher and CEO.

Katharine serves on the Boards of a number of public companies and two non-profit organizations. She has three children and is also a parent who has been on this journey. Katharine graduated from Harvard and from Stanford Law School. She lives in Washington DC with her three dogs.
Elizabeth J. Siliato
Liz is our Chief Product Officer. A licensed psychotherapist, Liz has spent over 12 years focusing on the child and adolescent population, particularly acute intensive and crisis services.

Most recently, she served as an Executive Director for a large non-profit organization providing behavioral health services and programs to numerous communities. In addition, Liz regularly works as a consultant and coach in the mental health space. Liz graduated from Lafayette College and received her M.A. in Counseling Psychology from the University of San Francisco. She lives in the Bay Area.
C = Courage
It takes tremendous courage to recognize that your teen is struggling and that you, alone, cannot make it better. It takes courage to reach out and seek help. Acknowledging something is scary, and doing it anyway, that's courage. And we admire it.
A = Authenticity
Authenticity is at the heart of everything we do here. We believe in being vulnerable, genuine, and honest: we may not have all the answers and we're ok with that. Life isn't perfect and we are here for all of it with you.

R = Resilience
Resilience is born of facing a challenge and rising to meet it. That is what we do as parents and guardians every day. There is no handbook, but we do our best to find the right path. It may veer here and there, but we forge ahead.
E = Empathy
Empathy deserves its buzzy status. Our capacity to perceive and resonate with others' suffering allows us to feel and understand their pain and respond with compassion. In doing so, we reduce our own stress. So we listen. We support. And we build trust.
Our board brings a wealth of experience and expertise.
We are a group with passion to re-shape what healthcare looks like.
Dr. Matthew Biel
Chief, Child and Adolescent Psychiatry
MedStar Georgetown University Hospital
Professor of Clinical Psychiatry and Pediatrics
Georgetown University School of Medicine
Brooke Coburn
Founding Partner
Capitol Meridian Partners
Former Deputy Chief Investment Officer
The Carlyle Group
John DeRose
VP Head of Services
Hybrid Work Solutions, HP
Former GM & VP
The Americas, Poly
Stephanie Lehman
Delegate
CA Democratic Party
Attorney
Clinical Social Worker
Nancy Lublin
Founder
Crisis Text Line
Former CEO
Do Something.org
Founder
Dress for Success
Dr. BJ Miller
Founder & President
MettleHealth
TedX Speaker
Dr. Michael Rich
Founder & Director
Digital Wellness Lab
Professor
Harvard Medical School
Physician
Boston Children's Hospital
Diego Rodriguez
EVP, Chief Product Officer
Intuit
Global Managing Director
IDEO
Board of Overseers
Harvard University
Founding Faculty Member
Stanford D School
Kunal Sarkar
Investor, Advisor
Former CEO and Co-founder
Lumosity
Dr. Irene Sung
Chief Medical Officer for Behavioral Health (Ret)
City of San Francisco
Sean White
Chief R&D Officer
Mozilla
Chairman
Tech for Global Good
Ariana Bernstein
MSW
San Francisco State University
Jana Frieling
Jana is a creative leader and designer with deep expertise and experience in shaping brands, bringing new products and services to life.
She's working with the ShineTogether team to re-imagine how we can better support parents and their children through mental health struggles
Charu Juneja
Director of Design & Product
Sutter Health
Instructor of Design
Penn School of Social Policy & Practice
Josh MacAdam
Josh is an entrepreneur and leader in building human-centered product and engineering teams.
He led IDEO's Digital Design group (d.shop), and founded and led multiple venture-backed companies in travel, e-commerce, and CRM. Josh lives in sunny San Diego where he helps run obvi design co.
Brian Oblinger
Brian has spent over 20 years building communities online and in-person for a wide range of companies - from Autodesk to Sony PlayStation. Brian is proud to help the team at ShineTogether build compassionate and fulfilling experiences for parents of struggling teens.
Caterina Rosander
Caterina is an experienced product, people, and partner leader. Director of Strategic Alliances at Oracle, Caterina is passionate about mental health and excited to be helping the ST Team.
Our institutional partners